Stephanopoulos Asks Obama About Special Prosecutor
Bob Fertik

Want to meet our members? Click 'Join' above!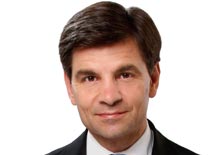 Obama ducked our Special Prosecutor question on change.gov, but that strategy backfired bigtime. Keith Olbermann discussed it with John Dean on Friday, and George Stephanopoulos asked Obama about it for Sunday's edition of This Week (h/t Josh Marshall). Here's Obama's answer - my response follows below. 
Obama Leaves Door Open (a Bit) On Prosecuting Bush Officials

During my exclusive interview with President-elect Barack Obama airing Sunday morning on "This Week" I asked the president-elect to respond to a one of the most popular questions on his own website, www.Change.gov.

"Will you appoint a Special Prosecutor -- ideally Patrick Fitzgerald -- to independently investigate the gravest crimes of the Bush administration, including torture and warrantless wiretapping?" asked Bob Fertik of New York who runs the Democrats.com website.

Fertik submitted the question to Obama's "Open for Questions" portion of the site, and later to us when he didn't receive a response.

During his presidential campaign, Obama left the door open to a special prosecutor, so I asked him to respond to Fertik's question.

Here was Obama's answer:

PRESIDENT-ELECT BARACK OBAMA: "We're still evaluating how we're going to approach the whole issue of interrogations, detentions, and so forth. And obviously we're going to look at past practices. And I don't believe that anybody is above the law. On the other hand, I also have a belief that we need to look forward as opposed to looking backwards. And part of my job is to make sure that for example at the CIA, you've got extraordinarily talented people who are working very hard to keep Americans safe. I don't want them to suddenly feel like they've got to spend all their time looking over their shoulders and lawyering up.

GEORGE STEPHANOPOULOS: "So no 9/11 Commission with independent seeking of power?"

OBAMA: "Well we have not made any final decisions but my instinct is for us to focus on how do we make sure that moving forward, we are doing the right thing. That doesn't mean that if somebody has blatantly broken the law, that they are above the law. But my orientation's going to be to move forward," Obama said.

STEPHANOPOULOS: "So let me just press that one more time. You're not ruling out prosecution, but will you tell your Justice Department to investigate these cases and follow the evidence where it leads?"

OBAMA: What I -- I think my general view when it comes to my attorney general is that he's the people's lawyer. Eric Holder's been nominated. His job is to uphold the Constitution and look after the interests of the American people. Not be swayed by my day-to-day politics. So ultimately, he's going to be making some calls. But my general belief is that when it comes to national security, what we have to focus on is getting things right in the future as opposed to looking at what we got wrong in the past."

 
First, let me thank Stephanopoulos for raising the issue of accountability for the crimes of the Bush Administration - a topic that is taboo in the Washington Establishment. 
As for Obama's reply, it's absurd to talk about "upholding the Constitution" and say "no one is above the law" if you refuse to look "back" at those who have subverted the Constitution and broken the law.
And you can't have one set of rules for "national security" and a different set of rules for everything else; there is no "national security exception" in the oath President-elect Obama will swear on January 20 in front of the people of the United States and the world:
"I do solemnly swear (or affirm) that I will faithfully execute the office of President of the United States, and will to the best of my ability, preserve, protect and defend the Constitution of the United States." 
So if there's any hope for prosecution in Obama's answer, it is that Attorney General Eric Holder will truly be "the people's lawyer" and fully represent us by prosecuting torturers, wiretappers, and other criminals who committed their crimes from secret undisclosed locations hidden within the Bush-Cheney administration.
But let's not leave this to chance. Let's all tell Attorney General Eric Holder what we want through a petition to Holder to appoint a Special Prosecutor for Bush's crimes:
http://www.democrats.com/special-prosecutor-for-bush-war-crimes
Update 1: Satyam Khanna at ThinkProgress points out that
Dawn Johnsen, Obama's choice to lead the Office of Legal Counsel, rejects Obama's "look forward" approach. In March 2008, she told "the next president" to avoid "any temptation to simply move on":

We must avoid any temptation simply to move on. We must instead be honest with ourselves and the world as we condemn our nation's past transgressions and reject Bush's corruption of our American ideals. Our constitutional democracy cannot survive with a government shrouded in secrecy, nor can our nation's honor be restored without full disclosure.

In April 2008, Obama left the door open to a special prosecutor, saying, "What I would want to do is to have my Justice Department and my Attorney General immediately review the information that's already there and to find out are there inquiries that need to be pursued."

On Friday's Rachel Maddow Show, George Washington University law professor Jonathan Turley said, "All of this 'we need to look to the future and we have to not look to the past,' well in our immediate past may be war crimes. And we sure better look at that." He added:

Everything that is coming out of the Congress and the Obama administration is very worrisome. It's not the type of stuff that would be said if you were seriously going to pursue prosecution. But they are insane to try to dodge this issue. Because if we don't investigate this administration for war crimes and illegality — particularly war crimes — someone else might. The fact is that the rest of the world sees these as war crimes.
So as "we the people" demand a Special Prosecutor for Bush's war crimes, our demands will be echoed by key officials within the Obama Administration and around the world. This will be a powerful force for Justice that will be hard - hopefully impossible - for AG Eric Holder to resist.
Update 2: Glennzilla believes Obama's reference an independent evaluation by Eric Holder is nothing more than "lip service":
Worst of all, Obama (in response to Stephenapolous' asking him about the number one highest-voted question on Change.gov, first submitted by Bob Fertik) all but said that he does not want to pursue prosecutions for high-level lawbreakers in the Bush administration, twice repeating the standard Beltway mantra that "we need to look forward as opposed to looking backwards" and "my instinct is for us to focus on how do we make sure that moving forward we are doing the right thing."  Obama didn't categorically rule out prosecutions -- he paid passing lip service to the pretty idea that "nobody is above the law," implied Eric Holder would have some role in making these decisions, and said "we're going to be looking at past practices" -- but he clearly intended to convey his emphatic view that he opposes "past-looking" investigations.  In the U.S., high political officials aren't investigated, let alone held accountable, for lawbreaking, and that is rather clearly something Obama has no intention of changing.
Greenwald's belief that Obama and Holder will give amnesty to torturers is supported by
anonymous sources within the Obama administration
.
|
Login to post comments
|
|
Top Actions