Bush Wired for Alito Remarks
Bob Fertik

Want to meet our members? Click 'Join' above!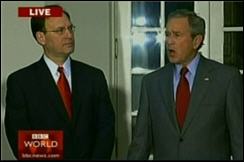 On Monday morning, Bush spoke a total of 250 words to the media on behalf of Sam Alito.
Even though it was a trivially short speech, filled with talking points he's recited many times before - and even though Bush was wide awake in the best hour of his day - Bush couldn't even deliver those 250 words without waiting for most of it to be fed to him through his earpiece!!!
Here's the word-by-word analysis, breaking down the video from BradBlog, which begins with the fourth sentence from Bush's remarks.
To show the operation of the earpiece, I start a new line with each pause. I invite you to play the video while reading my notes to double-check my conclusions.
By my count, Bush was fed 29 soundbites through his earpiece to deliver the 216 words below - that's less than 8 words per soundbite.
That low ratio may be because the earpiece was malfunctioning, as evidenced by several extremely noticeable breakdowns in Bush's delivery that led to phrases of just one, two, or three words.
If you study Bush's face, you'll see the clues I've mentioned many times that give away his "audio monitoring" - his eyes turn inwards, he blinks conspicuously, he extends his "uh," and at his most difficult moments he shakes his head from side to side to stall for time.
Now let's roll the video tape...
Sam Alito is [uh]
eminently qualified to be a-a member of the bench.
I-I'm not the only person who feels that way --
the American Bar Association looked at his record, looked at his opinions, looked at his [uh] temperament, [uh]
and came to the same conclusion, that he is [shp]
well qualified
to be a Supreme Court judge.
Sam's [uh]
got [uh]
the intellect necessary to [uh]
to bring [uh]
a lot of class [uh]
to that Court.
He's got a judicial temperament necessary to make sure that
that the Court [uh]
is a- is a- is a- is a body that interprets the law and doesn't try to write the law. [uh]
And so I'm looking forward to your hearings.
I know the American people will be impressed,
just like I have been impressed and a lot of other members of the Senate have been impressed.
And my hope, of course, is that the [uh]
the American people will be impressed by the process.
It's very important that members of the Senate [uh]
conduct a dignified hearing.
The Supreme Court is a dignified body; Sam is a dignified person. And [uh]
my hope, of course, is that the Senate [uh]
bring dignity to the process
and give this man a fair hearing
and an up or down vote on the Senate floor.
Sam, good luck to you. Thanks for your agreement to serve. I appreciate you. Thank you.
So there it is, word by trivial word. Unless he's completely reckless, Bush must have practiced it a couple of times. Yet even with practice he couldn't deliver it without Karl Rove feeding it into his ear.
When will the Washington Press Corps report that the most powerful man in the world is too stupid to deliver 250 simple well-rehearsed words without an earpiece??????
Update: Since Alito is testifying before the Senate under oath, maybe a Senator could ask him whether he saw anything in Bush's ear as he stood a foot away from him, or whether he heard any voices leaking out!
|
Login to post comments
|
|
Top Actions